How to Tell if Air Conditioning Repair is Needed
Texas Discount Air
Air Conditioning & Heating
How to Tell if Air Conditioning Repair is Needed - Fort Worth AC Services and Common Problems
Tarrant County's Trusted Emergency Air Conditioning and Furnace Repair Service!
How to Tell if Air Conditioning Repair is Needed
When your AC system breaks, you might be unsure if you should call an AC company or if the call is even necessary. Listed below are some of the things that may go wrong and what you can do. Some of the problems may necessitate calling an HVAC company, and other problems can be resolved with DIY.
If you are not sure how to tell if air conditioning repair is needed, the following signs will help you decide:
STRANGE NOISES
1. If screeching noises are coming from your outside AC unit when it runs, or if you hear any other odd sounds, something is usually wrong. For peace of mind, we can come evaluate your unit for any problems. This service call is only $29 and you can know what might be wrong and what needs to be done to fix the problem.
NO AIR (OR ONLY WARM AIR) IS COMING FROM THE AC VENTS
2. This problem usually means that either the limit switches need to be reset or the blower motor or another part needs to be replaced.
YOUR ELECTRIC BILL IS UNUSUALLY HIGH
3. As your AC system gets older and the parts wear down, it has to work harder to keep your house cold. As the unit works harder and harder each summer, you may notice your energy bills climbing higher and higher. If your unit is not energy efficient, replacing your system may be money saving option in the long run as your electric bills are reduced.
DRIPPING OR FLOODING WATER AROUND THE AC EQUIPMENT
4. If the floor around your inside AC equipment is wet, something is probably not functioning right. It may be as simple as an AC line drain flush, or (less likely) another repair may be needed.
YOUR HOUSE IS JUST NOT COLD ENOUGH
5. When your system runs all day but your house just doesn't get cool, something is likely broken. On the really hot days (105 degrees or more), sometimes even the best AC systems may run all day and yet never get the house below 68 degrees. But other times, the AC is in need of repair.
An AC technician can measure the temperature of the air as it comes out of the vents and let you know whether that exact temperature. By taking the temperature of the air as it comes out of the vents, the AC tech can establish if the problem is with the AC system (because the air coming out is not cold), or if the problem is with the insulation in your home (because the air is cold as it comes out, but the house itself is not getting cold).
We charge $29 total to come to your house (the service call) and find your problem (the diagnostic). When you do the needed repair, the service call is waived completely and you only pay for the repair.
Because we are a family run, local business, we strive to offer better, "discounted" prices. We work hard so that you can be happy with our service, our prices, and our work.
The technicians at Texas Discount Air are experts in AC and heat and have years of experience. When you hire Texas Discount Air to perform the work on your unit, that work is guaranteed and warrantied.
CHECK YOUR BREAKERS, THERMOSTAT, AND RETURN AIR VENTS
Additionally, if you are unsure in you need an air conditioning company to repair your system, check your return air vent filters and breaker switches. If the return air filters are dirty, you may just need to change them and have everything work again.
However, if your breaker switches have flipped, this may indicate a problem that will only get worse unless the broken parts are replaced.
Also, check that your thermostat is set to either heat or cool. When the weather changes, sometimes it can be easy to forget to change your thermostat from heat to cool, and vis-a-versa.
 Texas Discount Air at a Glance
Texas Discount Air is your local furnace repair company for residential heating and air conditioning service.
Service Call is Only $29 / Service Call is Free With Any Repair
Fully Licensed (License #TACLB00076800E) and Insured/ Emergency Service/ See Our Five Star Reviews
Flat Rate Pricing / Payment Types Accepted: Checks, Every Type of Credit Card, and Cash.
We serve all of Fort Worth and the surrounding areas.
Book a Service Call Online Now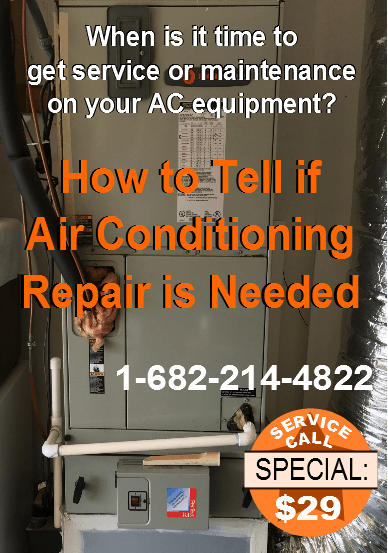 When is it time to get service or maintenance on your AC equipment?
The following problems can help you decide.
Air Conditioning and Heating Repair You Can Trust


ALL of Tarrant & Dallas Counties including the following cities: Keller, Southlake, Westlake, Fort Worth, Haltom City, Roanoke, Grapevine, Euless, Bedford, North Richland Hills, Saginaw, Dallas, Carrollton, White Settlement, Haslet, Arlington, Grand Prairie, Lake Worth, Colleyville, Farmers Branch, Richardson, Highland Park