3 Smart Ways to Avoid Air Conditioning Repairs This Summer
A working air conditioning system in the summer is very important in hot cities like Fort Worth, Texas area.
Once your AC breaks, you are often forced to make repairs quickly without taking the time to research costs and options.
With these three simple maintenance tips, you can help prolong the efficiency and effectiveness of your air conditioning system and hopefully avoid expensive emergency repairs.
1. Change the air filter regularly. Once the filter is plugged, your AC system must work much harder to suck in air. Overworking your system causes it to wear out faster and may cost you more money in the long run. Additionally, having clean AC filters means that the air in your home is cleaner and that pollutants and other harmful airborne particles are being removed.
2. Clean your outside AC condenser. When the parts inside your condenser become covered in dirt, the heat that should be released gets trapped under layers of dirt. A clean condenser will work far better than a dirty one and release the heat from your home more effectively. To learn how to clean your AC condenser, click here. 
3. Ensure airspace around your condenser. If bushes, branches, high grass, or other debris is crowding around your condenser, airflow will be limited. To ensure optimum airflow, trim all plants and remove any thing else that surrounds your AC condenser. If possible, keep a two foot area cleared around your condenser.
When your AC system must work harder than normal, it wears down faster. Each of these three tips help your air conditioner to run more smoothly and easily, which will ultimately prolong the life of your system and prevent accelerated repairs.
Top 4 Most Common AC Problems
1.) Air Conditioning is Not Blowing Cold Air...
"My AC system is blowing air but it is warm air": Most often, when an air conditioning system is blowing air inside and it's not cold air, it's because something is wrong solely with the unit outside. The inside part just blows air in the summer, but the outside unit does the cooling. So most likely, if you are only feeling warm air blowing into your house, what is happening is that the outside AC Condenser is not cooling that air with the Evaporator.
2.) The AC Unit is Making Weird Noises On and Off...
"My AC system is making weird noises on and off" : Often times customers will call and state that their AC system is making weird noises outside, like an on and off sound. This could be the dual run cap. This item is the most common repair in the summer. Because it provides power to the compressor and the condenser fan motor, when this item is broken, you will not get cold air, no matter how low you put the thermostat. Call Texas Discount Air@ 682-214-4822 (HVAC) to have this problem solved.
3.) Ice is Forming on the Outside AC Unit...
"I see ice on the outside unit" : This is a very serious problem and often times is because the ice has already been building up for hours on the inside part. While the inside of the unit has been frozen for hours, the ice has just worked its way down to the outside unit. If you simply defrosting the AC unit, and then using it again once the ice is thawed, this will not likely fix the problem, but only simply delay it. The current most common item that causes freezing up of AC units is a Refrigerant leak. This is becoming more and more of a problem. As AC systems get older, the copper becomes more annealed. When this happens, it weakens and joints fail causing R-22 freon to leak out. This is even happening in the newer 410a systems. Call Texas Discount Air@ 682-214-4822 (HVAC) to have this problem fixed.
4.) The Air is Not Blowing Cold Enough...
"My AC air is only coolish": This is related to another problem in your AC. Your system is probably cooling sometimes and not cooling other times as it fails intermittently. Believe it or not, some mechanical problems will reveal themselves only every few cycles as opposed to a constant problem.
We repair ALL Major and non-Major brands of AC Systems (Air Conditioning Systems). These include: Carrier, Bryant, Coleman, Rheem, Trane, Goodman, Day & Night, Amana, Lennox, American Standard, Payne, Ducane, Armstrong, Concord, Ruud, York, Luxaire, Allied, AirEase, Tempstar, Gree, Whirlpool, Fridgedaire, Heil, Fujitsu, Maytag, Tappan, State, Reznor, Kenmore, Janitrol, Gibson, Comfortmaker, Westinghouse, GE, Aspen, Burnham and many off brand and low brand AC Systems (Air Conditioning Systems).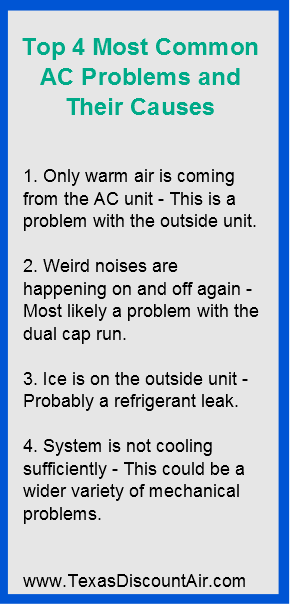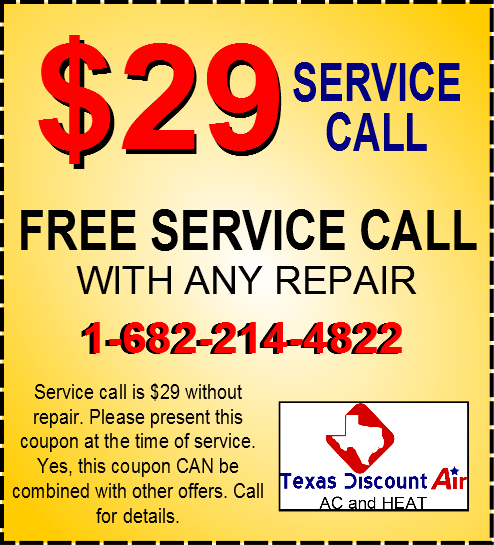 "Quick appointment scheduling and on time prompt arrival. Excellent diagnosis of the problem followed by repair. Courteous and knowledgeable technician. Will be my go to company for HVAC issues, highly recommend."
Narayanan G., Thumbtack Review

"Todd was incredibly professional, knowledgeable and helpful. He was available within two hours of my reaching out and was able to diagnose what was... Read More
For Expert, Discounted Air Conditioning Repair, Call Texas Discount Air at (682)214-4822.
We strive to make every customer as happy as possible by providing excellent service at deeply discounted prices.